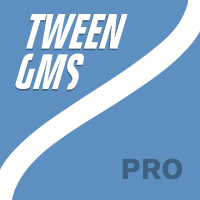 As of February 13, 2016, I will be making TweenGMS Pro permanently free. I have made the choice with careful consideration, deciding that I want as many people as possible to have access to it. (As of writing this, TweenGMS Pro is only $1 on the GameMaker marketplace. If you feel like chipping in a dollar, last minute, feel free to do so!)
Those who have purchased TweenGMS Pro, please contact me with your NAME/TWITTER/SITE/etc (as you want it seen by others) so that I can add you to an official supporter list included with future versions. *** A purchase order # from your marketplace purchase history would be helpful to validate ***

With more nifty features on the way, I will be continuing to update and support TweenGMS. It has been a fun experience working on it, and I don't plan to stop!
TweenGMS Lite will also continue to be updated. It will remain as an alternative for those who want a stripped down version of the engine without all the extra advanced functionality.
On a personal side note, I am considering taking on freelance work for GameMaker project optimisation. If you are needing to push out higher frame rates with your GameMaker games, feel free to give me a shout and we can discuss details!
-Stephen